Friday Short Haul - Amazon's fleet of day cabs, legislator's disclosure, WTA petition
Last Updated: Fri, October 11, 2019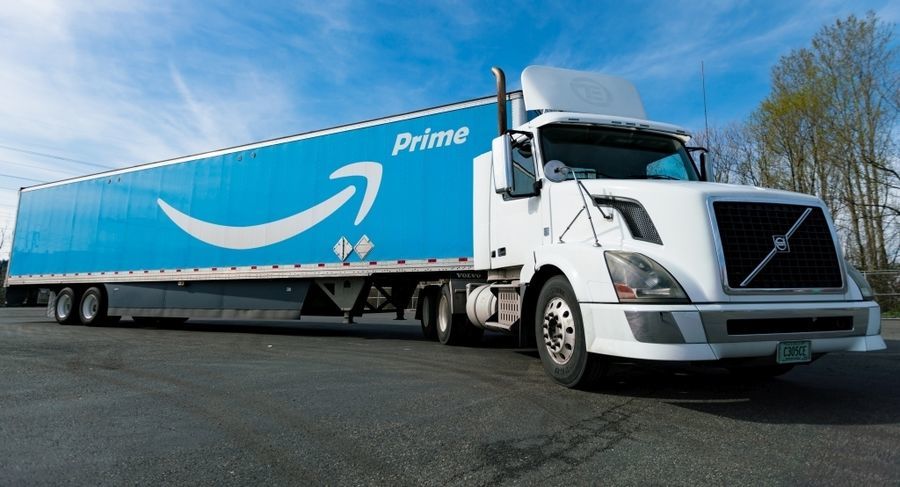 This is a file photo of a non-branded tractor. Amazon's new Volvo and Kenworth day cabs will sport similar coloration and logos to their delivery vans (below).
Amazon orders a fleet of branded day cabs
In a move indicating further disengagement with outsourced delivery providers Amazon has signed up with Volvo and Kenworth to take delivery of a ready-made fleet of Amazon-branded tractors.
A recent Business Insider article has the details.
According to the article, Amazon will take delivery of an unspecified number of Volvo and Kenworth day cabs at an unspecified time in the future.
Although the two major Class 8 truck manufacturers are keeping information about the deal close to their chests, the news was confirmed by Amazon Senior Vice President of Operations Dave Clark.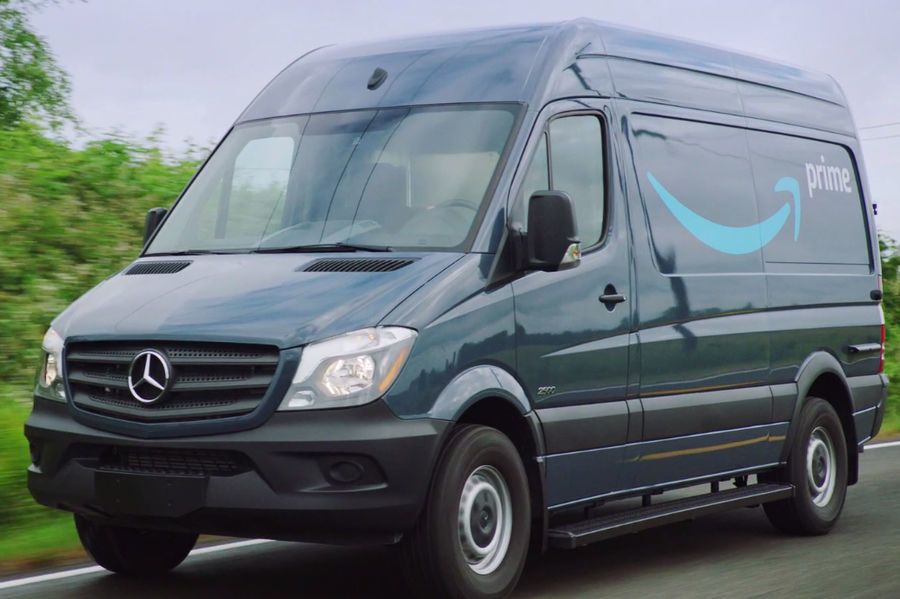 When Amazon's deployment of its own branded tractors goes into effect that rolling stock will join Amazon's fleet of 10,000 branded trailers, as well as its network of ocean freighters, branded airplanes, and its thousands of delivery vans that are already plying America's streets and appearing at residential customers' door steps.
Needless to say, Amazon's striving for logistics independence will be noticed by delivery heavy hitters UPS and FedEx that have based past financial strategies on getting Amazon's business.
In fact, according to Business Insider, one carrier, XPO Logistics, says it will lose $600 million in expected revenue because of its largest (unnamed) customer going to in-housing deliveries. Analysts agree that the unnamed customer is Amazon.
Another trucking firm worth $402 million declared bankruptcy this year, partially because of Amazon's move toward logistical independence.
It is largely surmised that Amazon will have its own company drivers to drive its new branded trucks, similar to the way that Walmart employs more than 8,000 company drivers to drive its fleet of trucks.
Analysts, however, say that Amazon might experience some difficulty in luring drivers to its new fleet. According to the Business Insider article, Amazon has not impressed drivers with the in-house brokerage service that it launched this year.
Drivers apparently are shying away from picking up Amazon-brokered loads because the average rates offered by Amazon's service are 18.4 percent lower than rates posted on the DAT load board.
Watchdog group says sponsor of bill for higher insurance minimums should recuse himself
The Foundation for Accountability and Civic Trust sent a letter this week to the Office of Congressional Ethics saying that Representative Matt Cartwright (D. Pa.), the sponsor of a bill that would dramatically increase insurance requirements for truckers, should recuse himself as his wife is an attorney working for a lawfirm that handles commercial truck accident cases.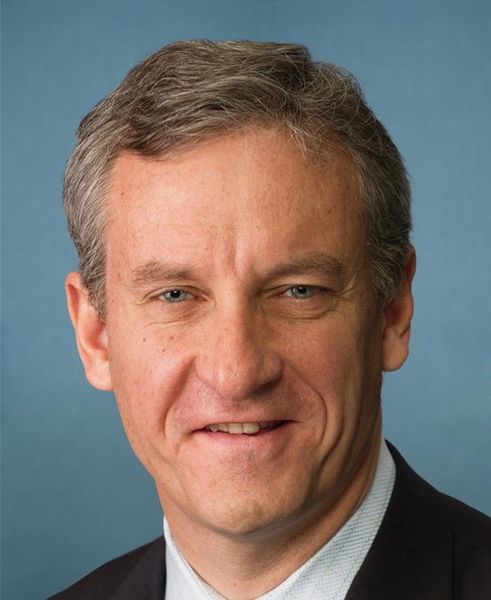 In the letter, FACT stated that Cartwright stands to gain financially from an increase in his wife, Marion's, income as a result of the legislation if it becomes law, and that he failed to list his wife and her source of income in federally required financial disclosures.
The legislation would increase the current $750,000 minimum to $4.5 million, which analysts agree would dramatically encourage already exorbitant and sometimes frivolous lawsuits against commercial truckers, resulting in even large payouts – a boon for attorneys.
"In light of these facts, the Office of Congressional Ethics needs to investigate whether Rep. Cartwright deliberately omitted his wife's income … in order to hide from scrutiny his financial ties to a law firm that stands to gain from the trucking liability legislation he recently introduced," the letter says.
Disclosing his wife's financial affairs is not something new to Cartwright, as he had done so and followed proper procedures in the past.
Todd Spenser, president of the Owner-Operator Independent Drivers Association, is quoted in the Washing Examiner stating, "From our perspective, it's blatantly obvious the motives behind the legislation are to economically improve the bottom line for attorneys that specialize in suing truckers. Should there be any integrity in our system at all, [Cartwright] should be recusing himself from involvement."
Washington truckers want the same Federal preemption granted to California drivers
In view of the Federal Motor Carrier Safety Association's slap-down of California's stricter meal and rest break rules, a Washington State truckers association is asking the Federal agency to grant the same preemption for Washington drivers.
As followup to the petition from the Washington Trucking Associations the FMCSA published on October 8 a notice and request for comments in the Federal Register.
Washington's law for meal periods and rest breaks is similar to California's, the petition stated. Employers are required to grant drivers a meal period of at least 30 minutes for every five-hour period, and a 10-minute rest break for every four-hour work period.
At the end of last year the FMCSA exercised Federal preemption on the California meal and rest break rules after being petitioned by the American Trucking Associations. In its ruling the FMCSA stated that drivers, small-business owners and industry stakeholders had shown that these kinds of meal and rest break rules "pose a safety risk but also lead to a loss in productivity and, ultimately, hurt American consumers."
The WTA claims with the similarity to California's meal and rest break rules Washington drivers deserve the same level of Federal preemption.
"Given the similarity between Washington and California meal and rest break rules, the agency analysis of California's rules in its recent preemption order applies equally to Washington's," the WTA petition stated.
Sources: Business Insider, The Washington Free Beacon, Land Line, The Federal Register
Tagged Under:
Choosing A Trucking Company
FMCSA
The Economy And Politics
Trucking Accidents
Trucking News
XPO