Lonely on the road? Get a furry friend
Last Updated: Sun, October 6, 2019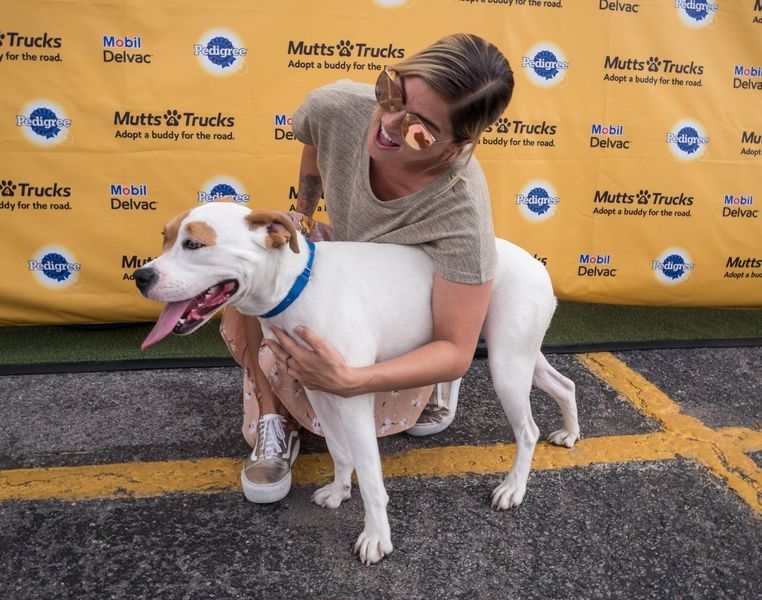 Country music star Cassadee Pope helps kick off the Mutts4Trucks program with the Mobil Delvac and PEDIGREE brands in Nashville, TN.
"In trucking, 20 pounds can make all the difference."
That's the catchy phrase headlining the top of the Mutts4Trucks website announcing a new campaign pairing truck drivers with dog companions.
The program, co-sponsored by Mobil Delvac and Pedigree brands, kicked off on September 27 at a Nashville, Tennessee, TA travel center. Besides appearances by country music star Cassadee Pope and a popular YouTuber TheCraftyTrucker, the main purpose of the event was to pair up truckers with shelter dogs.
"The goal of the program is to make a positive impact on the mental and physical well-being of truckers and shine a light on the benefits of dog adoption," according to a news release about the event.
Dogs were provided by the Nashville Humane Association. Drivers who adopted dogs received a car-safe harness, a leash, some Pedigree dog food, and more.
One driver, Amber Carlton-Wise, a truck driver with Werner Enterprises who has been driving for about a month, adopted a dog at the event, noting that she often gets lonely on the road.
"I'm lonely, sometimes I get bored, or when I go home on home-time, I don't know what to do because I'm so used to trucking now," said Carlton-Wise. "So I said I have all this time and I got love – everyone's got love to give – so I'll use that love for a pup."
The sponsors recognize that the trucking profession is vital to the United States economy, but also realize how lonely the job can be, with truck drivers spending an average of 240 nights away from home per year. Nearly a third of drivers say the alone time and time away from families significantly affects their mental health.
In recognition of these facts, the Mutts4Trucks sponsors decided to do something about it.
"Having worked with truck drivers for the past 90 years, the Mobil Delvac brand has seen first-hand the valuable economic contributions and personal sacrifices that truckers make on a daily basis," said Leah Ritter, Mobil Delvac brand advisor. "We are committed to showing our appreciation for their tireless work by helping improve their well-being – and by teaming up with the Pedigree brand, we hope to bring more joy to some of the nearly 3.5 million truckers on the road today who are committed to keeping our economy moving."
The benefit is not only to drivers, however. According to research nearly four million pets end up in shelters each year, and nearly half never do find a forever home.
"We know dogs have mood-boosting effects on the people whose lives they touch, and we also know that life on the road for a trucker can be lonely," said Elizabeth Barrett, Pedigree brand manager. "The Mutts4Trucks program benefits both dog and driver, because it brings a forever home to dogs in need, while providing truckers with a furry friend for the road."
After this initial grand opening event the Mutts4Trucks program will continue into 2020, with the sponsors following the journey of several truckers and their new dogs over the road, seeing the impact on the emotional and physical well-being of both the drivers and their adopted pets, while on the road together.
So, you want to go trucking with a dog?
Of necessity, having a furry friend accompanying you in your cab during the long haul is not the same as having a pet companion at home. Here is some advice when considering adding a pet travel friend.
In most instances there are limitations based on the size and amenities in the truck cab. And besides the rules that are set by various trucking carriers, there are some common-sense "rules" for choosing and maintaining a dog.
It is commonly suggested that a dog should be no bigger than about 50 pounds, should be a short-coated, non-shedding variety, and be a breed that does not require a lot of exercise. Older dogs are highly recommended, not only because they are already potty trained and have grown past that high-energy puppyness, but also because older dogs are often passed up for adoption from shelters.
You must be committed to giving your pet a chance to walk a bit and relieve itself during your driving breaks. And that's where having an older or lazy dog helps – you don't want a high-energy dog begging you to play fetch or take it for a run at every rest break.
Some pet-proofing tips provided by EZInvoiceFactoring:
When training your dog for the trucking lifestyle, create a barrier between your pup and your pedals. When he/she gets used to the environment, you can remove the barrier. But, until then, make the clutch and brakes off limits.
Make his/her space roomy and safe. If you opt for a smaller dog, make sure he/she can't get stuck or pinched under the seat. Check out Trucking Truth's tips on how to ride safely with your pup!
Store chewable items like medicine, food, or trash in compartments and out of your dog's reach.
Always have plenty of fresh water available. Keep a semi-full water dish on the floor of your truck, so your companion can drink whenever he/she pleases. Hot days and long trips will make your dog just as thirsty as you!
Some further tips and tricks for making your experience a good one for both you and your travel companion:
Remember to always have a leash handy and use it at every rest stop. Trucker dogs get used to the noises of traffic and loud trucks, so using a leash ensures that your pup is safe and close by at all times.
Vaccination records, CVI, and other necessary paperwork are important to always keep in your truck. Most companies require at least proof of rabies vaccination and tags.
Bring enough food and treats to keep your pup full and happy for a couple weeks. Keep in mind how long you will be on the road, while taking weather delays and breakdowns into consideration just in case.
Accidents happen, and it's okay. Keep some extra cleaning supplies and air fresheners around so you can easily tidy up your dog's space.
Which breeds are best for the road?
EZInvoiceFactoring has compiled a list of dogs that are more suitable for being a truck driver's companion:
Bulldogs and pugs – They are typically small, don't require a lot of exercise, and have short coats that shed minimally, and the hairs are easier to vacuum up. This breed of dog does better in temperate or colder climates, but not so well in hot desert area.
Pitbulls and boxers – Can reach medium size and are favored by truckers because of their extreme loyalty, making truckers feel safe on the road. They are happy sitting, but also may need more activity and require more pit stops and walks.
Chihuahuas, Pomeranians and miniature Dobermans – Considered to be "toy" breeds, these pets are favored by drivers because they are so easy to take care of and even carry around. An added bonus is that these smaller dogs are usually allowed to accompany the driver during motel stays.
Older dogs – Not a particular breed, but there are many advantages to taking on an older dog as a trucking companion. As mentioned above, they are housebroken and have that puppy energy grown out of them. They may require more time and patience to get them used to the trucking environment, depending on their temperament and their previous experiences.
YouTuber couple "TheCraftyTrucker" attended the Mutts4Trucks event in Nashville.
Sources: News Release, Mutts4Trucks, EZInvoiceFactoring, EZInvoiceFactoring
Tagged Under:
Choosing A Trucking Company
Exercise and Fitness
Life On The Road
Pets
Truck Driving Lifestyle
Werner Enterprises