Hard enforcement for ELD compliance now in effect
Last Updated: Tue, December 17, 2019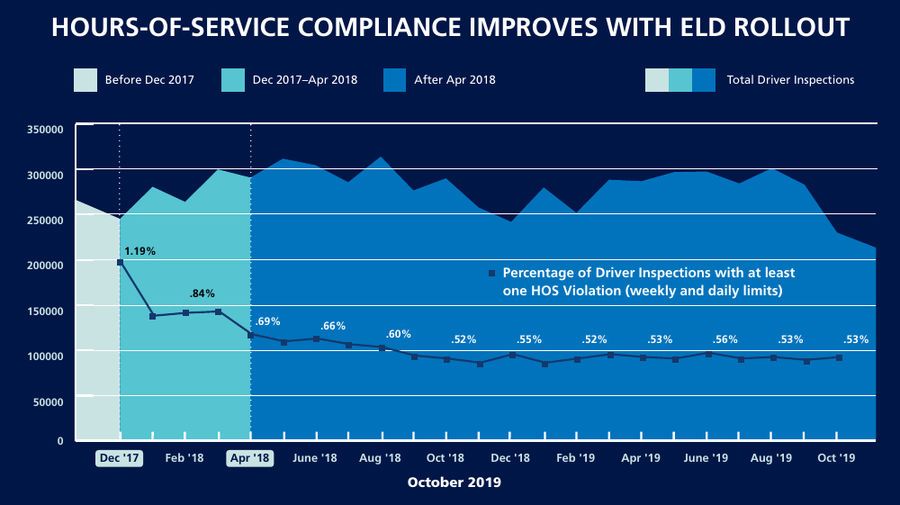 Yesterday, Tuesday, December 17, is the day that law enforcement ended any kind of reprieve for truckers found to be driving without a fully compliant electronic logging device … in other words, no more grandfather, no more exceptions.
The Federal Motor Carrier Safety Association has been warning for a couple of years that the December 17 compliance deadline would begin the hard enforcement period. Any roadside inspection where a trucker could not show the use of an approved ELD would immediately put the driver out of service for failure to have a legal record of duty status.
Fortunately, according to a recent survey by FreightWaves in conjunction with CarrierLists and EROADS, it is expected that only about 1 percent of those required to implement the ELDs have failed to get them installed and up and running by the hard deadline.
ELD providers are not reporting having a sudden rush at the last minute to convert from automatic on-board recording devices to the mandated ELDs.
"It would be disingenuous for us to say we could get those calling us today compliant because we just can't do it within 24 hours," Brian Gray, communications manager of NexTraq, told FreightWaves on December 16.
That's because, he explained, most carriers have been working on the transition from AOBRDs for the past year … and the final push involved merely making the software update and doing some final training. But, any new customers needing to have the telematics unit installed at this late date would run up against a time crunch.
"We had several hundred AOBRD customers and we approached our clients as their consultants and their advocates," Gray told FreightWaves. "We've been working with them hand-in-hand for the past year preparing them for the mandate."
Sid Nair, senior director of product management for Teletrac Navman, told FreightWaves that the small fraction of carriers who haven't updated by now are either unaware of the mandate or don't care.
He added that both non-compliant groups will definitely get the word once their fleets get pulled over for their first roadside inspection.
FMCSA has little to no sympathy for those who are driving trucks on December 17 without being compliant. Their choices are to either park their trucks until they can be converted over to ELDs or "find an alternative method," FMCSA product manager Oswaldo Flores told FreightWaves.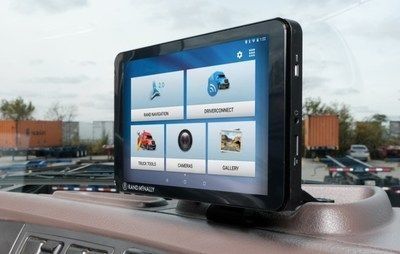 Rand introduces its TND Tablet 85
Speaking of trucking technology, Rand McNally, long considered by truckers to be a leader in truck-specific GPS units, introduces a new unit dubbed the TND Tablet 85; which comes with many new features including a directional dash cam with loop recording and an integrated G sensor. It is also ELD compatible with an optional addon unit.
This is the 6th generation of truck navigation devices that Rand has offered.
The new unit employs Rand's proprietary Rand Navigation 2.0; which features sophisticated truck routing, a new, clean interface and striking visuals, according to a Rand McNally press release.
"The new software greatly improves usability, truck routing, traffic avoidance, and access to advanced features like weather overlays," the press release noted. "Combining Rand Navigation 2.0 with our new TND™ Tablet 85 provides professional drivers with the very best navigation experience Rand McNally has ever offered."
Some of the features unique to Rand's 6th generation platform include a directional dash cam with loop recording; live connecting to traffic, current fuel prices and weather; improved driver tools like mileage and fuel logs, bread crumb routes and the ability to plug in an improved ELD device for additional features.
Basically, the TND Tablet 85 provides all the benefits of an Android tablet having the ability to access email, news and entertainment. A wi-fi connection is required for some of the features.
Sources: Yahoo Finance, Yahoo Finance
Tagged Under:
Electronic Logbooks
FMCSA
GPS Systems
Hours Of Service
Truck Equipment
Truckers Technology
Trucking News