Survey seeks answers to what drivers want from carriers
Last Updated: Sun, May 30, 2021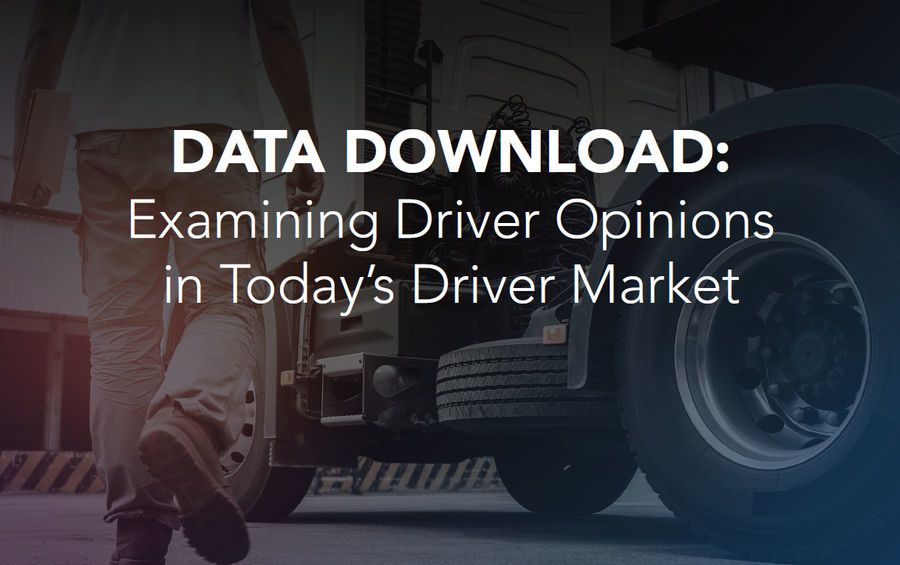 In trying to understand the dynamics of the driver-shortage, driver-recruitment, driver-retention paradigm a survey conducted by the Conversion Interactive Agency and Professional Driver Agency went right to the source -- they took a questionnaire to commercial drivers.
The driver data was compiled from the responses received between April 19 and May 7 of this year. The survey was sent to 16,446 commercial drivers, and 1,212 responses were sent back in, for a response rate of only 7.4 percent.
The survey originators, Conversion Interactive Agency, which is a driver recruitment advertising agency, and Professional Driver Agency, which specializes in driver retention, stated in the introduction to the survey results:
"We are no doubt in a challenging market for recruiting and retaining truck drivers. Carriers of all sizes are finding it difficult to establish a healthy pipeline of new drivers for their fleet, while retaining their existing drivers to support the freight demands in the market."
Survey questions sought answers to a variety of driver concerns, including:
Whether drivers are currently looking for a job
Drivers communication preferences
Services offered at company terminals
What drivers would they like to see changed about the driver recruiting process
Despite the driver shortage that has carriers actively attempting to recruit drivers, with market demand overwhelmingly outweighing supply, the survey results show that more than half the drivers who responded said they were not looking for a job.
Almost three-quarters of those drivers, 73.6 percent, said they are happy where they are driving. Uncertainty of the economy and being afraid to make a change is keeping about 12 percent from seeking employment with other carriers. And 2.4 percent stated the stimulus checks have filled the gaps in income shortfalls.
"In an extremely competitive driver market like we're in today, the carriers who are winning are those who are investing in recruitment strategies to capture both passive and active drivers," said Kelley Walkup, president and CEO for Conversion Interactive Agency.
"The data shows us that Facebook and YouTube are leaders in where drivers are consuming content and information, so establishing a strategy on these channels is critical to success in recruiting. These strategies develop brand preference from both drivers who are looking today and from those who aren't actively looking but will remember brands when they're ready to make a change."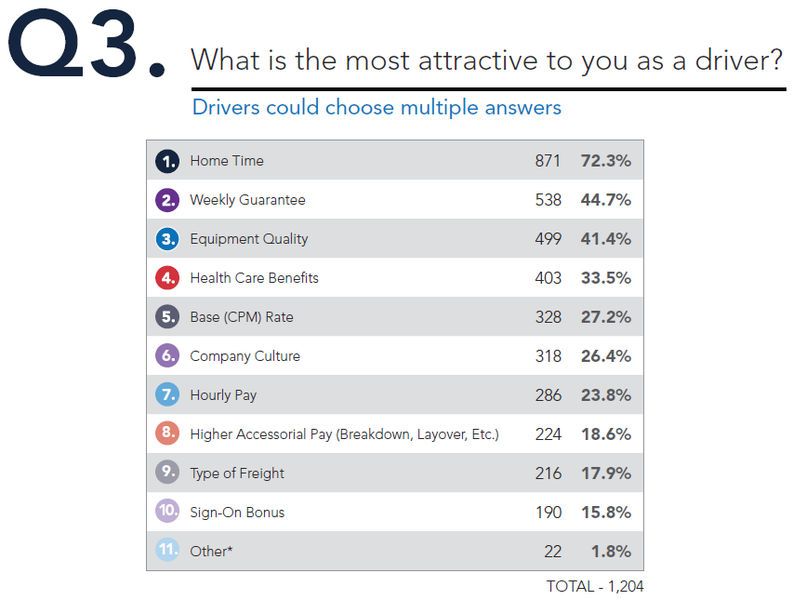 When asked what was the most attractive carrier-offered feature to them as a driver, nearly three quarters, 72.3 percent, gave home time their top priority, with the most-important aspect of that being the carrier getting them home on time, and the carrier honoring their home-time requests.
Ranging from 44 percent down to 33 percent in importance to drivers were such things as a weekly guarantee, equipment quality and health care. Surprisingly, hourly pay was listed as being important to only 23.8 percent of drivers.
"In this tight market, not only do we see challenges in recruiting, but we are also seeing an uptick in turnover across the industry," said Scott Dismuke, director of operations for PDA.
"The companies that are best fit to combat a rise in turnover are going to be those that are paying attention to, and addressing the details. Drivers have made it abundantly clear in this survey that home time and honoring their home time are things carriers need to be focused on."
One of the largest gaps between the top driver concern and the second-highest was in the area of what drivers wish carriers would do differently with their recruitment programs. Some 71.3 percent of drivers responding to the question indicated they wish recruiters would be more honest with them.
The second-highest response in the area of recruitment, coming in at slightly under 19 percent, was in being offered better starting pay.
"There is a clear gap between the experience carriers are selling to drivers and the actual experience they're delivering," added Walkup.
"I would challenge motor carriers of all sizes to audit the driver experience at their fleet and be sure what you're selling in your recruiting departments mirrors what you're delivering. This will build trust with drivers, and ultimately improve retention for fleets."
The surveying agencies concluded that carriers can take the pressure off of their recruiting departments by doing a better job with driver retention, and that it's too late to try to retain drivers after they have announced their resignation.
Some 60 percent of drivers said they like to give two weeks notice.
"Once a driver decides to leave, data is showing they are typically going to give a carrier two weeks' notice," said Dismuke.
"In reality, that gives a carrier about a week to fix or address a driver's issue, otherwise that driver is probably going to leave. Proactive communication, having the ability to address individual issues quickly and keeping a driver from that tipping point is essential in saving a driver."
"If a carrier's turnover is going up, the current driver market is not the time to make data assumptions," Dismuke continued. "Now, more than ever, carriers need facts when making decisions. Proactive communication and accurate driver data are key."
Driver answers to some of the other survey questions provide clues that carriers can use to determine if they are running unhappy drivers.
For example, in answer to the question: "When visiting/stopping at a carrier's terminal, what amenities are the most important to you?" some 54.2 percent of drivers said they would like to have clean showers. That was followed by food and drink access via café, cafeteria or restaurant, 29.5 percent, clean bathrooms, 29.2 percent, and laundry facility, 16.4 percent.
Drivers expressed a preference for the way they like to communicate with dispatchers and fleet managers, and doing that via their on-board computer was way down the list. The top preference for communications was via phone calls, 58.5 percent, followed by texts, 19.4 percent.
Only 15.3 percent of drivers preferred communicating through the ELD system, 4.1 percent via email, and under 3 percent via "other."
The survey originators suggest that carriers understand that:
Given that most drivers spend their day isolated, they want to hear a voice on the other line
The best way to gauge a driver's communication preference is to see how they communicate with you
Mirror a driver's communication preference
If a driver calls, don't text them back, call them back
Drivers view communication and respect as the same thing
The survey concluded that, "The results of this survey show clear data for each of the questions presented to the drivers as well as key takeaways for carriers to consider. Carriers are encouraged to use this information to help make decisions on the issues and business practices that affect drivers the most."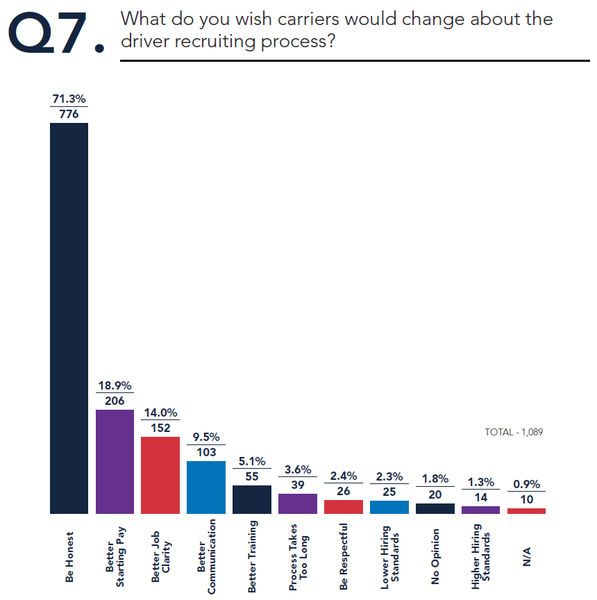 ---
Dave Wickenhauser went on the road driving big rigs after retiring from 33 years in newspaper journalism. His trucking novels, Crimson Highway, the first in the Hugh Mann series, and the sequel, Road Test, are available at Amazon as paperbacks, and as Kindle ebooks.
Sources: News Release, Full Report
Tagged Under:
Changing Careers
Home Time
Recruiter Issues
Trucking Industry Concerns