Human smuggling via big rigs on the increase
Last Updated: Tue, October 29, 2019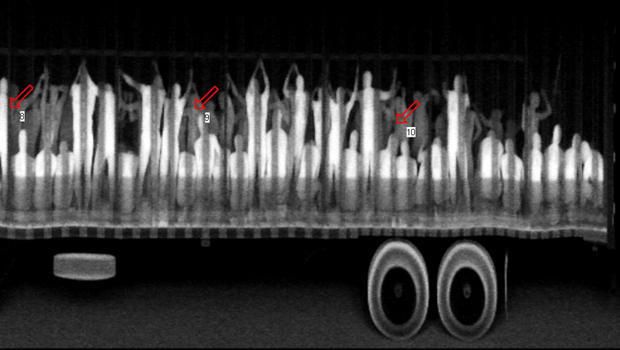 This X-ray photo taken of a truck trailer in 2011 by Mexico's Chiapas State government illustrates the brutality of the smugglers as they transport illegal immigrants through Mexico headed for the U.S. border. In this incident more than 500 migrants, many suffering from dehydration, were discovered crammed into two trucks, with some not even having the room to sit down, but were seen to be holding onto ropes strung along the truck trailer's ceiling.
United States Custom and Border Patrol agents say that increased security at the U.S. border with Mexico is resulting in more migrants taking the risk of being transported via semi trailers – sometimes with deadly consequences.
Arizona border officials have noticed a spike in illegal immigrants being smuggled across in truck trailers in the past few months. Or they are spotted after being picked up and loaded into truck trailers after making the crossing on foot.
For most of these incidents where illegals are being caught it's the X-ray technology that tells the tale.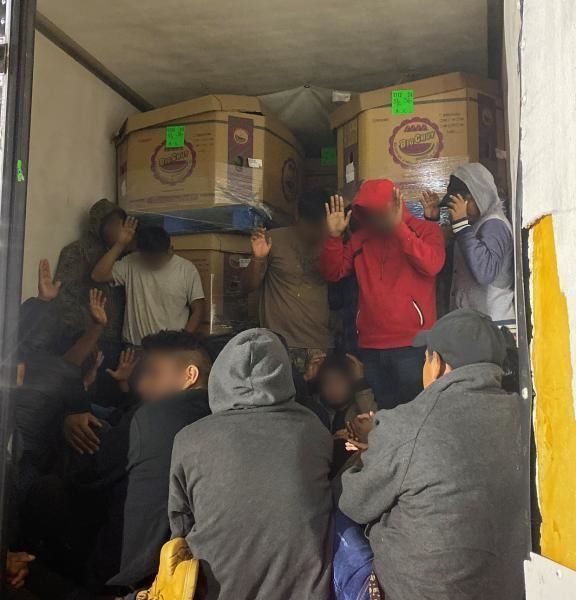 Just last Saturday, border officers found 30 migrants locked in the back of a semi trailer at a checkpoint near the Tucson U.S.-Mexico border. They were discovered about 10 pm on Saturday during a secondary inspection when a sniffer dog alerted officials to the trailer.
The truck driver, who is a United States citizen, and a passenger were arrested on charges of human smuggling.
And officials say these incidents of "coyotes" using big rigs to transport migrants are on the upswing.
Pete Bidegain III, the branch chief for the Border Patrol's Tucson sector, told the Arizona Republic this week, "It seems to come in phases where we have definitely seen an uptick in this type of activity over the summer."
The I-19 Border Patrol checkpoint near Tubac, which is 25 miles north of the border, is on a major route for transportation of produce and other commercial products from Mexico through the Mexican border town of Nogales. And it apparently is a common chokepoint for catching illegals making their way north in big rigs.
Besides Saturday's discovery, there were four other recent incidents at this one checkpoint
Two weeks earlier, Border Patrol agents discovered 32 migrants hidden in a semitruck at the I-19 checkpoint.
On Sept. 11, 31 migrants were discovered.
On July 2, Border Patrol agents discovered 33 migrants hidden in a trailer.
On March 22, five migrants were found hiding among produce in the back of a truck.
Bidegain declined to speculate whether trucking companies are complicit in these smuggling operations, but he told the Arizona Republic that "definitely there are drivers that are helping facilitate this."
It's a risk
Like making the trek on foot across the border that often ends badly for many immigrants, they also risk injury or death traveling in these trailers.
Notable in the news recently is the incident where 39 Asian immigrants were discovered having died in a trailer being smuggled into England.
But, closer to home, back in July 2018 when officials opened a trailer parked at a Texas Walmart they found that 10 migrants crammed into the trailer with dozens of other illegals had succumbed to sweltering heat. Tragically, the trailer the migrants was riding in was equipped with a refrigeration unit, that apparently was not in operation.
More than 70 people were crammed into the trailer at one time. Survivors told officials that Los Zetas, a large and deadly Mexican cartel, was involved.
"So the message for us really is of all the smuggling techniques, this one and trunks of cars are probably the most dangerous for people being smuggled," Bidegain told the Republic.
There are a number of organizations dedicated to preventing the tragedy of incidents like the recent one in San Antonio. One of these is Operation Big Rig by the South Texas Corridor of Joint Task Force West that began in November 2017.
Another is Truckers Against Trafficking, an Oklahoma organization whose goal it is to educate truckers on how to spot and prevent illegals from getting access to their trucks and trailers.
Here is a video produced by Operation Big Rig after a trailer tragedy.
Sources: Arizona Republic, CBS News, US CBP
Tagged Under:
Trucking Industry Concerns
Trucking News