Friday Short Haul -- Trucking quilter, Tri-State bets $5,000, and CRST conquers dwell time
Last Updated: Thu, November 12, 2020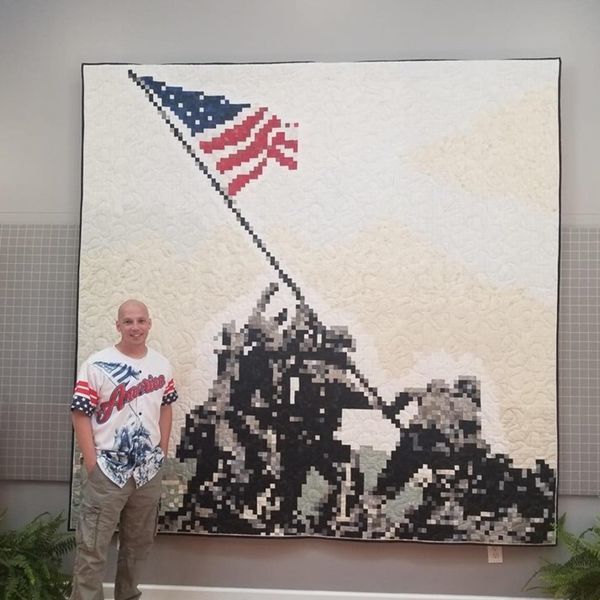 "Iwo Jima" quilt by Andrew Lee. Source: Combat Quilter Facebook page
Trucker Army veteran conquers PTSD with quilting
The "Sources" link to Quilting Digest below is not a mistake.
It's by way of the article at the Quilting Digest website that we are pleased to learn about a former U.S. Army Staff Sgt. trucker who conquers PTSD acquired after two tours in Iraq by making quilts, many of them for Quilts of Valor.
He said that he takes his therapeutic hobby on the road with him, having outfitted his semi truck with sewing space, and even a full-sized ironing board. He said he fills trucking downtime with sewing up his pieces.
Andrew Lee's two tours as an Army Battle Command Systems operator in Iraq left him with PTSD, and while home after discharge his search for a focus brought him to Joanne's Fabrics after seeing one of their flyers. He decided to make a runner for his Mom.
His wife then got in the action with him, and they decided to take a quilting class together; which Lee discovered was good therapy for his PTSD, allowing him to "open up his locked down emotions related to being in combat situations," according to Quilting Digest.
Within his first three years he had completed 50 quilts, many of them for Quilts of Valor, an organization whose stated mission is to "Cover service members and veterans with comforting and healing Quilts of Valor."
The Quilts of Valor Foundation began in 2003 with a dream that founder Catherine Roberts' son Nat had while deployed in Iraq. In the dream, he saw a young man sitting on the side of his bed in the middle of the night, hunched over, the Foundation's website explained.
"The permeating feeling was one of utter despair. I could see his war demons clustered around, dragging him down into an emotional gutter. Then, as if viewing a movie, I saw him in the next scene wrapped in a quilt. His whole demeanor changed from one of despair to one of hope and well-being. The quilt had made this dramatic change."
A quilt titled, "Iwo Jima" is one of Lee's largest projects. The 110-inch-square quilt includes 12,100 squares, and took him a year to complete.
Lee's adventures with quilting are displayed on his Facebook page, Combat Quilter, including many, many photos of his projects.
Lee says, "I am a combat veteran who is now a long armer because my fairy God Mother bought me a Longarm, in order to follow my dreams. I believe a quilt can change someone's life, and a Quilt of Valor can save someone's life; I have witnessed it."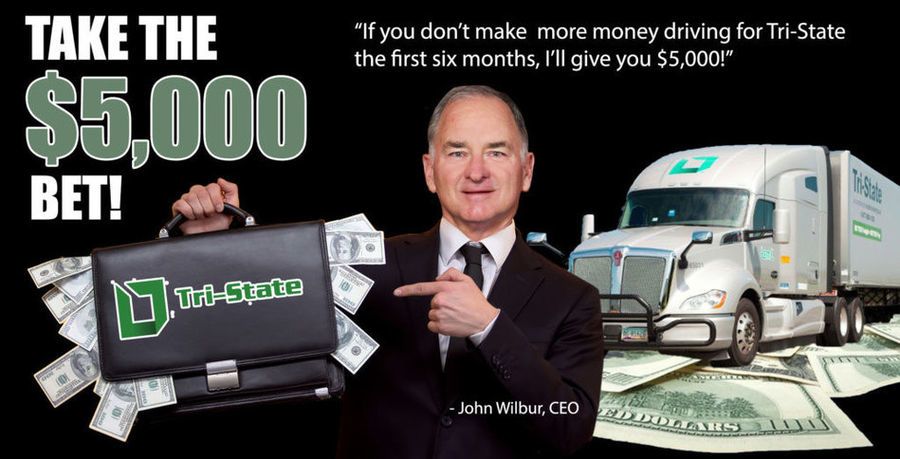 Tri-State puts up $5,000 to bet new drivers will make more money
Tri-State Motor Transit made it in Trucking Truth News back in March with their program for reducing driver turnover.
Roadmaster, the parent company for Tri-State, reported that their drivers get a guaranteed weekly paycheck between about $1,200 and $1,600, with mileage bonuses on top of their salaries.
Now, to prove their commitment that new Tri-State drivers will make more money in their first six months driving for the company than they did in the most-recent past six months with their prior company, Tri-State CEO John Wilbur says they will pay a $5,000 cash bonus to anyone who doesn't achieve that.
"Our drivers are the best paid in the industry, and we're ready to prove it to new drivers. What do they have to lose? If new drivers don't make more money as promised, then I'll lose the bet. I hate to lose, but I'll honor my word and pay up."
Tri-State is a Glendale, Arizona, based specialty trucking company that hauls high-security cargo with their fleet of more than 300 satellite-tracked trucks. Team drivers operated dry vans, flatbeds, Conestoga trailers and dromedary trains, carrying arms, ammunition or explosives, explosive waste, hazardous waste, low-level radiation and other sensitive materials.
Wilbur says that many of their owner-operator teams make more than $500,000 a year. "Our HAZMAT Team Drivers do well, too. Our top driver made $101,287.36 last year. That's why I'm confident in my guarantee—make more money, or I'm paying drivers $5.000 cash," he added.
Drivers interested in finding out if they qualify to become a Tri-State driver and taking Wilbur up on his $5,000 bet can do so by doing to TriStateBet.com, or by calling 855-622-3664.
New driver qualifications include:
HAZMAT Endorsement
Verifiable Class A CDL
23 Years of Age or Older
Minimum of 1 year Recent OTR Experience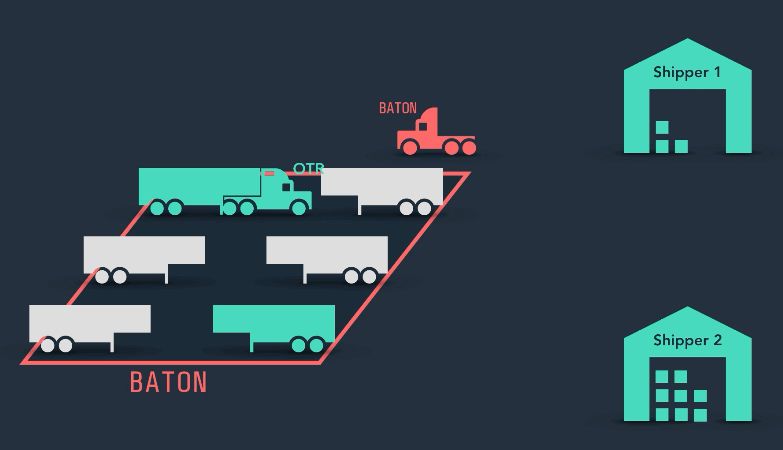 CRST conquers dwell time with new load-managing system
Iowa-based CRST International recently tested a new load-managing service called Baton, and claims some dramatic improvement in dwell time and turnarounds.
In testing over a 30-day period in the Los Angeles area, CRST says the app-based service gave them 98 percent increase in on-time performance, and reduced dwell time from the industry average of about three hours down to no more than 30 minutes.
The service tested by CRST, came from a San-Francisco startup based out of San Francisco named Baton that pairs the efficiency of an app-based load management program with proprietary drop zones where drivers match up with loads – either incoming, or outgoing.
The service works by using software that coordinates and optimizes the first and final mile of long haul truck routes via a tech-enabled network of drop zones and local drivers, according to the Baton news release.
Truckers drop off and pick up their cargo at Baton's secure network of drop-off zones near major metropolitan areas. Baton's network of local drivers then shuttle those loads between drop zones and the final warehouse for pickup and delivery.
CRST says that there was a "massive reduction" of in-transit dwell, along with reducing the slack time that drivers "bake into their schedules" to make appointments on time, or waiting for a backhaul.
The carrier began the 30-day pilot program using Baton's service with five pickups and drop-offs per day at a single Baton drop zone in Los Angeles.
Within a week, CRST asked to triple that volume, and expanded to a second Baton yard.
Currently, Baton operates only in Los Angeles and Atlanta, but plans to launch the service and man drop zones in Dallas and Chicago next year.
"Covid-19 caused huge constraints and volatility in the freight markets," said Andrew Berberick, cofounder of Baton.
"In particular, since August, the market has consistently been at an all-time high, and it's not letting up anytime soon," he said. "We're seeing massively more demand than supply can keep up with, and therefore trucking companies are rejecting 26.5 percent of loads right now. Not only is Baton freeing up long-haul drivers to take on more freight and reduce rejections, but we're also helping companies like CRST go after more loads by grabbing freight in advance so their long-haul drivers can pick it up when convenient for them. We're here to help bridge that gap."
Chad Brueck, President, CRST Expedited Solutions agrees, "We're always looking for ways to prioritize driver satisfaction and efficiency gains regardless of market conditions. It is this mindset that made us partner with Baton when times were tough, and has helped us succeed in today's demanding market.
"Dwell is especially costly in our team-based environment, and was causing massive inefficiencies for CRST. By partnering with Baton, we can now capture more freight, keep our drivers moving more consistently, and improve our customers' experience all at the same time."
Sources:
Quilting Digest
,
Quilts of Valor
,
Tri-State News Release
,
Baton News Release
Tagged Under:
CRST Van Expedited
Team Driving
Truck Driver Salary
Truck Driving Lifestyle