Are trucker strikes a thing of the past?
Last Updated: Mon, October 21, 2019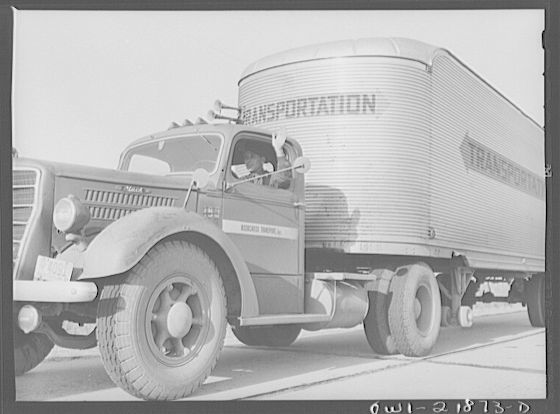 It's a common refrain among truck-industry bloggers and on trucker's forums – "Truckers Move America," "Stores would be out of toilet paper in three days without truckers," "Truckers could strike and shut down the economy."
Many truck driver complaints that lead to these sentiments are real, no doubt.
Mean driver salaries -- adjusted for inflation -- have unquestioningly declined over the decades. Researchers note that from the '70s to the '80s mean driver salaries declined by 24 percent, and from the '80s to today have declined by 35 percent in some areas.
Driver issues like overlong detentions, over-regulation, and over-monitoring by overreaching company managers do indeed take their toll on driver satisfaction.
America's 1.8 million truck drivers haul some 71 percent of this country's freight, amounting to an $800 billion dollar chunk of the economy. So, the question remains: Why don't truck drivers wield this supposed influence and strike nationally, ending their grievances and bettering their situation?
A stark reason why …
Business Insider online took up the challenge and answered the question with a comprehensive article titled, "There's a stark reason why America's 1.8 Million long-haul truck drivers can't strike."
To answer the question Business Insider went back several decades, to President Carter's era in fact, to find the genesis for why truck drivers can't do like what General Motors workers did recently and mount a walkout that eventually resulted in an $11,000 bonus for every worker, and the retention of 9,000 jobs, among other benefits.
That walkout cost General Motors $2 billion and was a major win for the United Automobile Workers labor union.
Nationwide, last year saw a record number of represented workers strike – 485,000 of them from school teachers to hotel workers.
Truck drivers almost 50 years ago did manage to wield some influence. In 1970 truck drivers nationwide refused to drive for a month, creating havoc in some major cities like Chicago and St. Louis, and forcing authorities in Cleveland, Ohio, to call out the National Guard for security.
That strike, under the auspices of the Teamsters Union, resulted in a pay increase of nearly 30 percent for Teamster members.
Nationwide driver strikes no more?
But those days are gone for truckers, and Business Insiders' analysis reveals what is the crux of the problem for truck drivers – no real coalescing of representation among the almost 2 million big rig drivers on the roads today.
Membership in the Teamsters Union, traditionally one of the most powerful unions in the country, has declined dramatically since 1974 when there were more than 2 million trucker members.
Today, there are only about 75,000 members; which is hardly a statistical representation of the industry as a whole; and which is a number that cannot wield the same influence as the United Automobile Workers Union, for example.
Recent attempts to mobilize truck drivers center around a relatively new organization called "Black Smoke Matters;" which boasts some 15,000 Facebook members, but who could rally only a handful for a much-publicized strike in April of this year – not exactly a replay of the 1970 truckers strike.
Deregulation is the reason
Business Insider has determined that this decline in influence among one of the nation's largest group of workers goes back to the deregulation fever of the late 1970s. Reformers zeroed in on the trucking industry as being ripe for deregulation.
Back then, some trucking routes, and thus the prices of the goods moved, were regulated, resulting in higher rates, and higher consumer prices, for freight hauled in the regulated routes.
Reformers figured that deregulation could save consumers as much as $8 billion ($25 billion in today's dollars) each year. So, The Motor Carrier Act of 1980 was passed and signed into law by President Carter.
Under regulation, truck drivers were better paid, and saw their salaries begin to decline soon after the deregulatory MCA was implemented.
With deregulation, the nation saw a surge of new trucking companies who had more control over their rates – and over driver salaries.
That was also the beginning of the end for the once-powerful Teamsters Union; which was never again able to mount a strike like the very successful one in 1970.
Today's truck drivers are not largely union-minded. They are independent-thinking even as company drivers, but especially as owner-operators or contractor drivers. One driver interviewed by Business Insider said it is just too difficult to get enough drivers together to participate in any kind of joint effort.
Basically, without union backing, striking truckers would be left on their own to take the financial brunt of not putting in the miles.
And that's the dilemma. Nationwide strikes require supportive union backing, but truck drivers for the most part are not union minded.
Rick Blatter, a spokesperson for the Canadian Truckers Association, summed up the situation to Business Insider.
"Truck strikes don't always work because organizing independent truckers is like organizing anarchists," he said. "It is very hard. But everything is possible. Eventually."
Sources: Business Insider, Business Insider
Tagged Under:
Owner Operator
Truck Driver Salary
Trucking Industry Concerns
Unions In Trucking